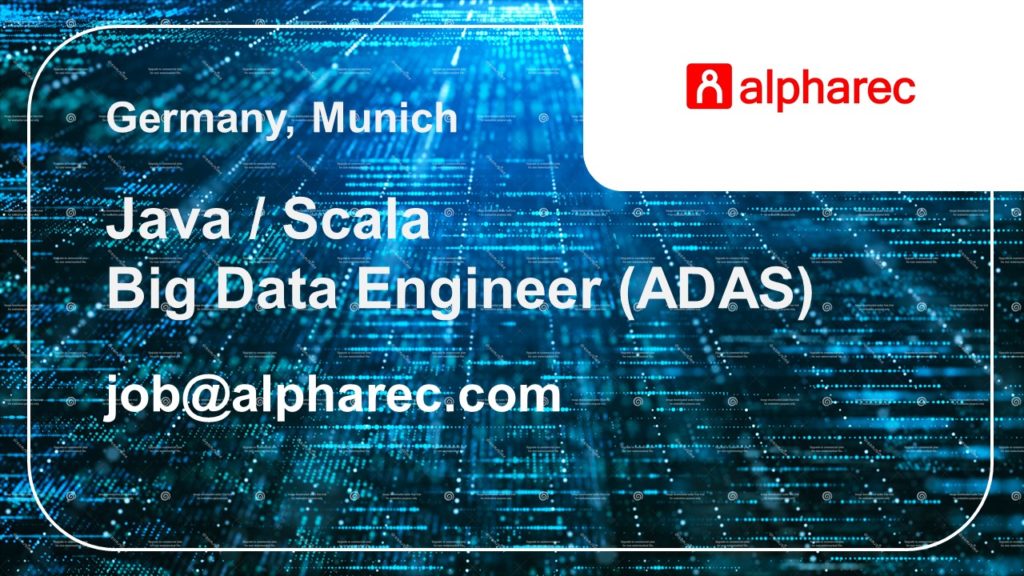 For our Business Partner (IT) we are recruiting for the position of:
Java / Scala – Big Data Engineer (ADAS) – Germany, Munich
Our client is an Autonomous Driving Technology leader working with a major German OEM. This is the place to be to develop and apply your skills in this sector.
Candidate will be part of the feature development team to extract new features from a data repository consisting of sensor and test vehicle data. His/her role will be a Java / Scala – Big Data Engineer (ADAS).  
The chosen candidates can count on support in relocation. 
Expectations (knowledge / experience):
Higher education corresponding with the role

Professional experience at similar role (with commercial projects > 8 years) 

Strong experience with 

Hadoop

 and it's ecosystem (e.g. Yarn, MapReduce, Spark, HBase, Kafka, etc.) in development and implementation

Experience in loading from disparate data sets and pre-processing using Hive and Pig

Experience in writing high-performance, reliable and maintainable code in languages like 

Java

,

 Scala

 and Python, writing of MapReduce jobs

Track record of working on perform analysis of vast data stores and uncover insights while maintaining the security and data privacy

Deep knowledge in distributed processing principles and frameworks – Experience in modelling complex big data architectures

Should have worked on data analytics projects involving feature extraction

Should have good communication (verbal/written) and presentation skills

Should have good problem understanding and analytical skills

Preferred to have played a role in project coordination and knowledge of project management methodologies
English B2 or higher

 (must have)
German (will be a plus, but it is not required)


additionally nice to have:
The right to work in the EU
After employment:
Long-term contract

Competitive employment conditions, as good as candidate is

Interesting job and challenging tasks

Big amount of trust and independence

International environment of work

Opportunities for raising professional qualifications

Welcoming and friendly work environment 
If you are interested to work with us, please send your CV in English at:
Subject: : Java / Scala – Big Data Engineer (ADAS) – Germany, Munich
Please be informed that we reserve ourselves the right to contact only with selected candidates.
Please add the following statement to the application each time: "I agree to the processing by Alpharec Sp. z o.o. my personal data disclosed in the application documents in accordance with the Regulation of the European Parliament and of the Council (EU) 2016/679 of 27 April 2016. on the protection of individuals with regard to the processing of personal data and on the free movement of such data and the repeal of Directive 95/46 / EC (general regulation on data protection) for this and subsequent recruitment processes carried out by Alpharec Sp. z o.o., for a period of 2 years from the date of submitting my data."
In addition, we inform:
The administrator of your personal data acquired in the recruitment process is Alpharec Sp. z o.o. with headquarters in Wrocław, ul. Pomorska 32. You can contact the Inspector of Personal Data Protection using the address: data@alpharec.com. Personal data will be processed in order to carry out recruitment processes (legal basis: Article 22¹ § 1 of the Labor Code in relation to Article 6 (1) c. Regulation of 27 April 2016. Regulation of the RODO as part of the implementation of the legal obligation on the data administrator). Providing data is voluntary, but necessary to participate in recruitment processes. Entrusted personal data will be kept for a period of 2 years from the date of their transfer. Expected categories of recipients of data: recruiters and persons deciding about employment on the part of our clients. Applicable rights: the right to request the administrator to access personal data relating to himself, rectify them, remove or limit processing, as well as the right to object and the right to transfer data and the right to file a complaint to the supervisory body.
Alpharec Sp. z o.o. entered in the Register of Employment Agencies in Poland: 3957.