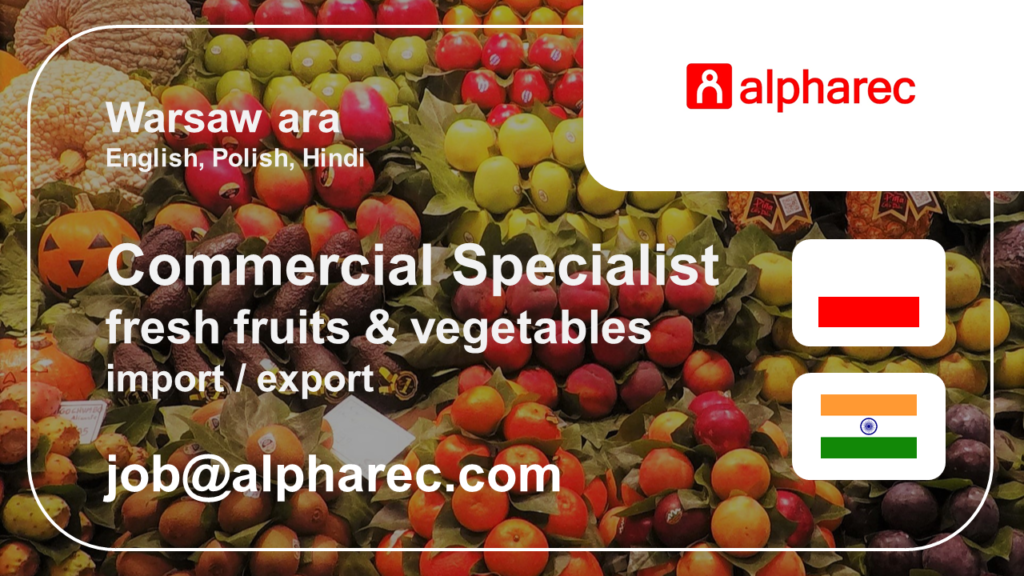 For our business partner, one of key players in the field of import & export fresh fruits & vegetables in Central Europe, we are recruiting for the position of:
Commercial Specialist (Hindi, Polish, English) (fresh fruits & vegetables) – Poland, Warsaw area 
Our client is founding a trade company in India, Delhi. The company will be focused on building a sales structure for fresh fruits and vegetables imported from Central Europe. 
We are looking for someone who has enterprenual attitude and knows how to build and develop such business in India. The company will be located in Delhi. 
Good candidate should speak English, Polish and Hindi. The chosen person will become a business partner with shares. 
Key goals:
Close cooperation with the company in India

Acquiring customers for fruits and vegetables exported from Central Europe

Building a sales network in India
Expectations (knowledge / experience / skills):
Big ambitions, motivation to succeed, effectiveness in business

Knowledge about business, especially in the international environment

Knowledge about building commercial network in India, in the whole country with focus on Delhi area 

Perfect organization of own work

Excellent interpersonal skills that work well both in Europe and in India

Knowledge about cultural differences (India, Poland, Europe)

Good orientation about the economic situation in India, good knowledge of the country

Honesty, no criminal record

Very good English, Polish & Hindi

Good to have:
Experience in similar type of business
Contract of employment in Poland

Big amount of trust and independence

Solid base salary + commission
If you are interested to work with us, please send your CV in English or Polish at:
Subject: : Commercial Specialist (Hindi, Polish, English) (fresh fruits & vegetables) – Poland, Warsaw area
Please be informed that we reserve ourselves the right to contact only with selected candidates.
Please add the following statement to the application each time: "I agree to the processing by Alpharec Sp. z o.o. my personal data disclosed in the application documents in accordance with the Regulation of the European Parliament and of the Council (EU) 2016/679 of 27 April 2016. on the protection of individuals with regard to the processing of personal data and on the free movement of such data and the repeal of Directive 95/46 / EC (general regulation on data protection) for this and subsequent recruitment processes carried out by Alpharec Sp. z o.o., for a period of 2 years from the date of submitting my data."
In addition, we inform:
The administrator of your personal data acquired in the recruitment process is Alpharec Sp. z o.o. with headquarters in Wrocław, ul. Pomorska 32. You can contact the Inspector of Personal Data Protection using the address: data@alpharec.com. Personal data will be processed in order to carry out recruitment processes (legal basis: Article 22¹ § 1 of the Labor Code in relation to Article 6 (1) c. Regulation of 27 April 2016. Regulation of the RODO as part of the implementation of the legal obligation on the data administrator). Providing data is voluntary, but necessary to participate in recruitment processes. Entrusted personal data will be kept for a period of 2 years from the date of their transfer. Expected categories of recipients of data: recruiters and persons deciding about employment on the part of our clients. Applicable rights: the right to request the administrator to access personal data relating to himself, rectify them, remove or limit processing, as well as the right to object and the right to transfer data and the right to file a complaint to the supervisory body.
Alpharec Sp. z o.o. entered in the Register of Employment Agencies in Poland: 3957.