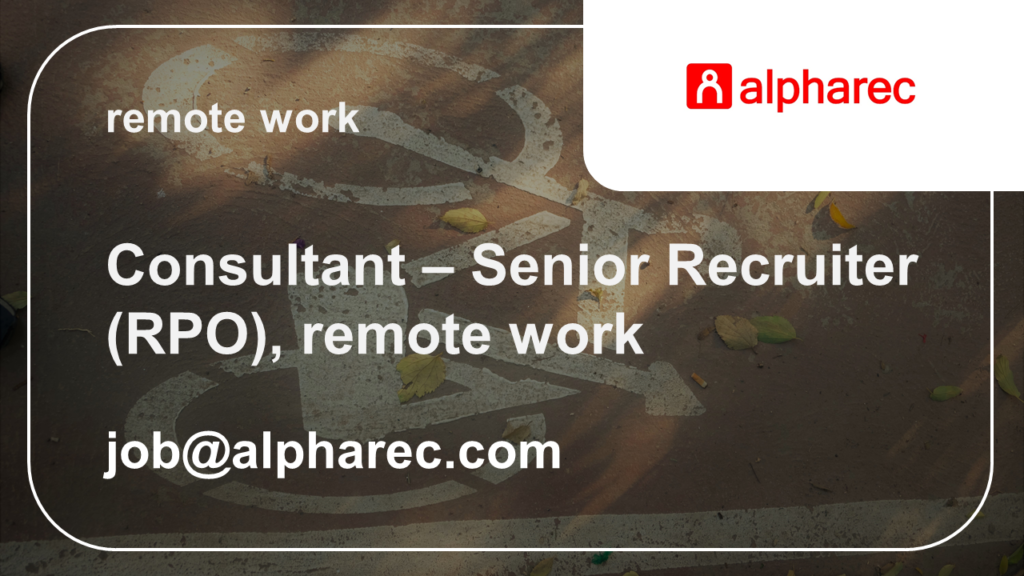 For our business partner we are recruiting for the position of:
Consultant – Senior Recruiter (RPO), remote work 
You will join a team of highly motivated and experienced recruiters working for one international employer exclusively (Recruitment Process Outsourcing, RPO). Approx. 80% of remote work and several days a month on site. Estimated project length is 6 months, but with realistic perspective to extend.
Key responsibilities:
As an external provider of recruitment services you will be responsible for sourcing talents (mostly engineers) for one international employer

You will work closely with the employer and with other team members
Expectations (knowledge / experience / skills):
3+ years of professional experience on similar role (as a recruiter, headhunter, talent acquisition specialist) in international environment including corporate employers

Fluent English, German will be a big plus

Excellent organization skills, focus on quality and results, attention to details

Excellent skils in MS Office applications

You should live in a location with good transport connections with main cities in Germany, Austria, Switzerland

The ideal Recruiter should be focused on achieving the highest quality and recruitment results

Readiness for self-employment (B2B contract)
Interesting and challenging tasks

Good work conditions 

Attractive salary conditions (good base + bonnuses for each successful placement) 

Flexible work hours

Permission to work remotely (approx. 3-4 days a week)

Interesting business trips
If you are interested to work with us, please send your CV in English at:
Subject: : Consultant – Senior Recruiter (RPO), remote work
Please be informed that we reserve ourselves the right to contact only with selected candidates.
Please add the following statement to the application each time: "I agree to the processing by Alpharec Sp. z o.o. my personal data disclosed in the application documents in accordance with the Regulation of the European Parliament and of the Council (EU) 2016/679 of 27 April 2016. on the protection of individuals with regard to the processing of personal data and on the free movement of such data and the repeal of Directive 95/46 / EC (general regulation on data protection) for this and subsequent recruitment processes carried out by Alpharec Sp. z o.o., for a period of 2 years from the date of submitting my data."
In addition, we inform:
The administrator of your personal data acquired in the recruitment process is Alpharec Sp. z o.o. with headquarters in Wrocław, ul. Pomorska 32. You can contact the Inspector of Personal Data Protection using the address: data@alpharec.com. Personal data will be processed in order to carry out recruitment processes (legal basis: Article 22¹ § 1 of the Labor Code in relation to Article 6 (1) c. Regulation of 27 April 2016. Regulation of the RODO as part of the implementation of the legal obligation on the data administrator). Providing data is voluntary, but necessary to participate in recruitment processes. Entrusted personal data will be kept for a period of 2 years from the date of their transfer. Expected categories of recipients of data: recruiters and persons deciding about employment on the part of our clients. Applicable rights: the right to request the administrator to access personal data relating to himself, rectify them, remove or limit processing, as well as the right to object and the right to transfer data and the right to file a complaint to the supervisory body.
Alpharec Sp. z o.o. entered in the Register of Employment Agencies in Poland: 3957.