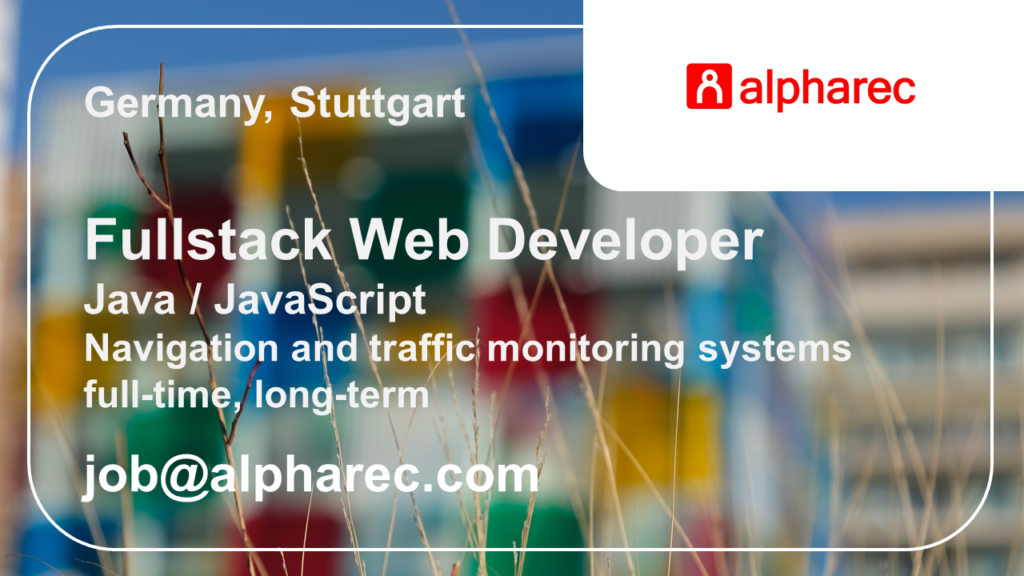 For our Business Partner (IT) we are recruiting for the position of:
Fullstack Web Developer (Java / JavaScript) – Germany, Stuttgart 
The chosen candidates can count on support in relocation. As a team member and software developer you will work on navigation and traffic monitoring systems dedidated to shipping industry. 
This offer is for both beginners and experienced programmers. The chosen candidates can count on support in relocation.  
Expectations (knowledge / experience / skills):
Higher education corresponding with the role

Professional experience at similar role (with commercial projects)

Good knowledge of:
 - Java
 - JavaScript 
 - Java EE 
    – HTML
 - CSS
 - Web applications
 - Angular
 - Ionic / Cordova
 - SaaS
 - REST
 - SQL
English B2 or higher (must have)

German (will be a plus) – employer expects intensive lanuage learning before start and then will be open to sponsor language course or/and accpet part-time work in the first 1-2 months (when new employee learns German intensively)


additionally nice to have:
Experience in projects developing navigation and traffic monitoring systems
Full-time & long-term contract

Competitive employment conditions, good salary with non-financial benefits

Interesting job and challenging tasks.

Big amount of trust and independence

International environment of work

Opportunities for raising professional qualifications

Welcoming and friendly work environment 
If you are interested to work with us, please send your CV in English at:
Subject: : Fullstack Web Developer (Java / JavaScript) – Germany, Stuttgart
Please be informed that we reserve ourselves the right to contact only with selected candidates.
Please add the following statement to the application each time: "I agree to the processing by Alpharec Sp. z o.o. my personal data disclosed in the application documents in accordance with the Regulation of the European Parliament and of the Council (EU) 2016/679 of 27 April 2016. on the protection of individuals with regard to the processing of personal data and on the free movement of such data and the repeal of Directive 95/46 / EC (general regulation on data protection) for this and subsequent recruitment processes carried out by Alpharec Sp. z o.o., for a period of 2 years from the date of submitting my data."
In addition, we inform:
The administrator of your personal data acquired in the recruitment process is Alpharec Sp. z o.o. with headquarters in Wrocław, ul. Pomorska 32. You can contact the Inspector of Personal Data Protection using the address: data@alpharec.com. Personal data will be processed in order to carry out recruitment processes (legal basis: Article 22¹ § 1 of the Labor Code in relation to Article 6 (1) c. Regulation of 27 April 2016. Regulation of the RODO as part of the implementation of the legal obligation on the data administrator). Providing data is voluntary, but necessary to participate in recruitment processes. Entrusted personal data will be kept for a period of 2 years from the date of their transfer. Expected categories of recipients of data: recruiters and persons deciding about employment on the part of our clients. Applicable rights: the right to request the administrator to access personal data relating to himself, rectify them, remove or limit processing, as well as the right to object and the right to transfer data and the right to file a complaint to the supervisory body.
Alpharec Sp. z o.o. entered in the Register of Employment Agencies in Poland: 3957.